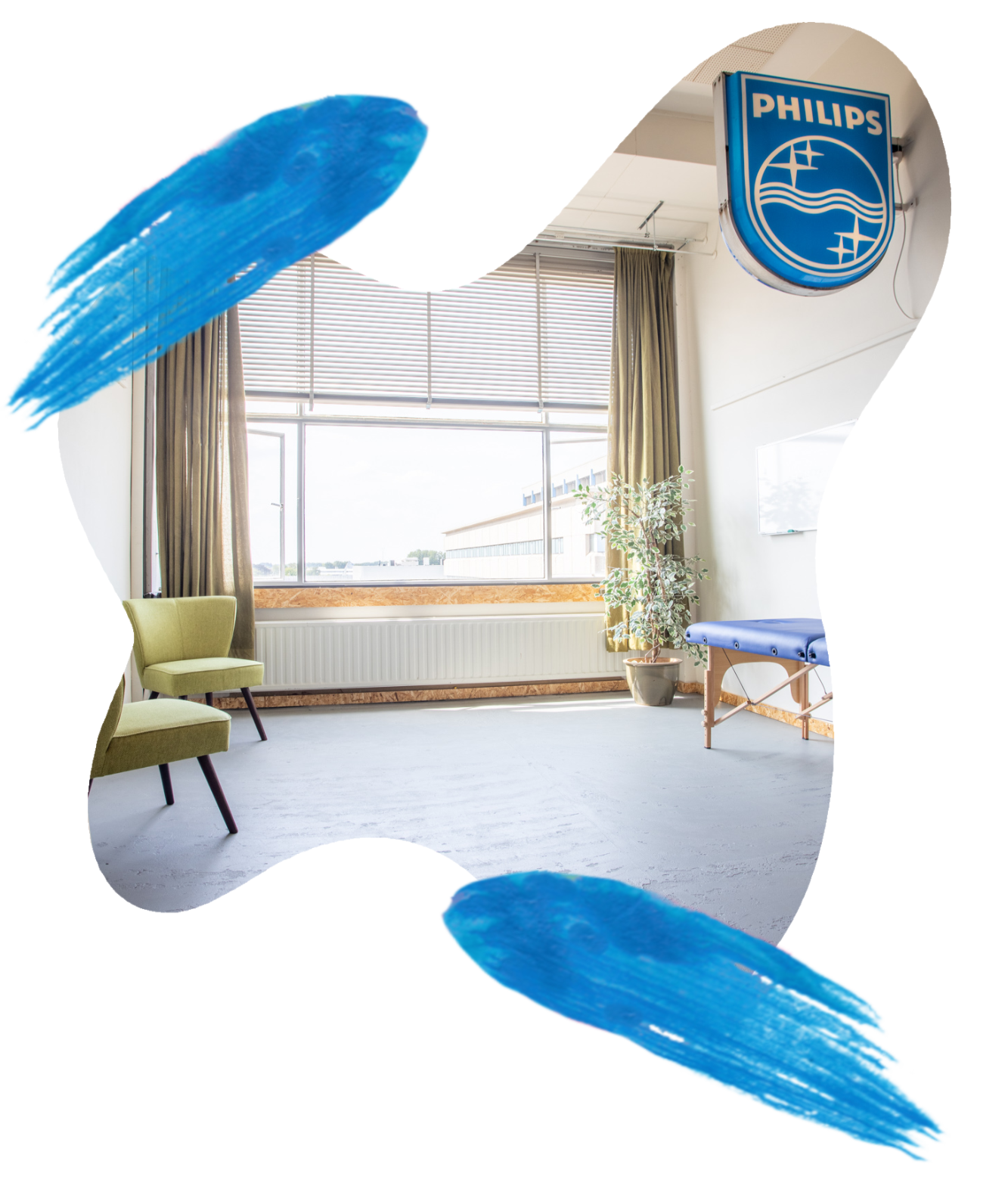 A PLACE WHERE YOU WANT TO COME BACK
My practice is located at a unique location in a former Philips factory building called Plan-B. The building is full of young creative entrepreneurs who have turned this factory into a great place to work. Kunst van Contact's practice space is comfortably located at the end of the hallway on the 3rd floor.
Of course, haptotherapy is not only limited to this practice space. Haptonomy at your location is also possible. Look at the different options below.
Through conversations, experiential exercises and affective forms of touch, you get the opportunity to get more in touch with your emotions, your feelings and of course yourself. This way you can recognize what signals your body is telling you and the meaning it can have for you.
When you don't really have a direct request for help, but you like to give yourself a checkup from time to time. See how things are going. 
Together we work on optimizing job satisfaction and productivity. Honest and respectful at a pace that best suits your business operations. You discover your own strength and skills, how you develop and use them. Both for employer, employee and self-employed person.
€ 97 (+/- 60 min) (Excl VAT)*
Visiting process on location possible, price in consultation
This unique opportunity in the pregnancy process is intended for you AND especially your partner. In these sessions you will learn practical tips and ways to make contact with your baby at an early stage of pregnancy in 7 useful sessions.
€ 92,50 (+/- 60 min) *

€ 600 Complete course (7 sessions)*

*(per session for 2 people)
The feeling of performance pressure is what every athlete feels. Preventing existing and new injuries ensures optimal sports pleasure. Don't spend too long with your injury.
These sessions can also take place at your sports location in consultation
I consider it a privilege as a haptotherapist to be part of the development process of you as a client. Together we discover where possibilities and new opportunities lie. It's not always easy, it's not always fun, but there are always options. A touch of humor can sometimes help with that. And sometimes it takes more time than 1 hour. 12 hours for example. Do you dare to take on the ultimate haptonomic challenge?
12 hours for € 700.00 (excluding VAT)
or we meet at your place?
Location
On the work floor, at home or in another environment, you always come into contact with other situations. Sometimes it can be the environment causing a problem. That is why I like to come to your location, workplace, sports field or other environment where you work every day. Information from the environment can be a vital key to the solution.